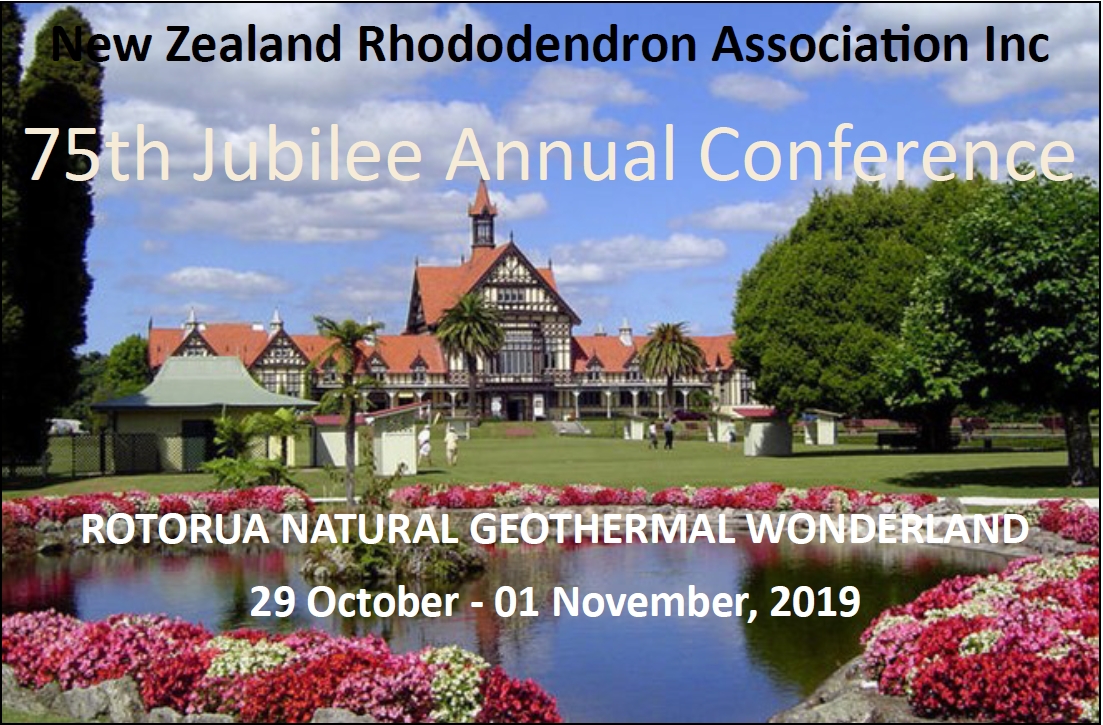 New Zealand Rhododendron Association Inc

75th Jubilee Annual Conference

Tuesday, 29 October - Friday, 01 November, 2019

Members of the Rotorua Conference Committee, on behalf of the New Zealand Rhododendron Association, invite you to attend the 2019, 75th Jubilee Annual Conference. This invitation is extended to all NZRA members, overseas rhododendron group members and residents of the Bay of Plenty.
A range of gardens have been selected for your enjoyment and we are most grateful to the garden owners for their participation in this event.


Bloom Display
The bloom display will be located in the Holiday Inn and we encourage you to bring blooms to add to the display, from 1.00 pm on Tuesday.
Free evening.
The evening of Wednesday, 30 October, is free of official commitments. There is a range of eating places available.
Weather Conditions.
As is usual at this time of the year, the weather may be unsettled and we recommend warm clothing, wet weather gear and sturdy footwear.
Safety
Every effort has been made to ensure gardens and coach stopping points are safe. It is a condition of registration that you assume responsibility for your own safety and possessions during the Conference. Paths may be uneven and a walking stick is recommended if you need this assistance.
Conference Accommodation
The conference will be based at The Holiday Inn, 10 Tryon Street Rotorua 3010.
Phone 07 348 1189 www.rotorua.holidayinn.com

Early booking is advisable as we are dealing with a tourist city.
Other Motels/Hotels close by are: -
Transport:
Coaches will depart from the Holiday Inn each morning.

Mobility
Please indicate on the Registration Form if you require any assistance.

KEYNOTE SPEAKER
Doug Thomson: Collection Curator –
Rhododendron. Dunedin Botanic Garden
"Fighting Rhododendron Extinction"

Programme Summary
Tuesday 29 October
1.00 pm
3.00 pm
6.30 pm
7.30 pm
Bloom display set up - Holiday Inn
Registrations commence - Holiday Inn
'Meet & Greet' and evening meal - Holiday Inn
Official Opening

Wednesday 30 October
8.15 am
Group A 8.15 am
10.15 am
Group B 8.15 am
9.30 am

Group A 11.14 am
12.45 pm
Group B 11.00 am
12.30 pm
Both Groups 1.00 pm 2.30 pm
4.00 pm
Coaches depart from Holiday Inn
Depart for Sandara Garden
Depart for Rototaha
Depart for PlentyFlora
Depart for Rototaha
Morning Tea at Rototaha
Depart Rototaha for PlentyFlora
Depart for CT Club
Depart Rototaha for Sandara
Depart for CT Club
Lunch at CT Club and visit to Rotorua Centennial Park
Depart for Rhodohill
Depart Rhodohill to arrive at the Holiday Inn at approx. 4.30 pm
Free evening

Thursday 31 October
8.15 am
Group A 8.15 am
9.15 am
10.00 am
Group B 8.15 am
9.15 am
10.10 am

Both Groups 11.50 am

Group A 2.00 pm
4.00 pm
Group B 2.00 pm
4.00 pm
6.30 pm
Coaches depart from Holiday Inn
Depart for Blackburn's Garden and Art Gallery
Depart for Thompson and Mackenzie Gardens
Depart for Miller Garden
Depart for Thompson and Mackenzie Gardens
Depart for Blackburn's Garden and Art Gallery
Depart for Miller Garden
Morning Tea on arrival at Miller Garden
Depart for Bergamo
Lunch at Bergamo
Depart Bergamo for Rhodohaven, then Innisfree
Depart Innisfree for Holiday Inn (approx. 4.30 pm)
Depart Bergamo for Innisfree, then Rhodohaven
Depart Rhodohaven for Holiday Inn (approx. 4.30 pm)
Conference Dinner at The Holiday Inn

Friday 01 November
8.15 am
Group A 8.15 am
9.45 am
11.45 am
Group B 8.15 am
10.30 am
11.45 am

12.05 pm
12.15 pm
12.45 pm
2.00 pm
Coaches depart from Holiday Inn
Depart for Dennis Garden
Depart for Tikitere Gardens and Nursery
Depart Tikitere Gardens for Blue Baths
Depart for Tikitere Gardens and Nursery
Depart for Dennis Garden
Depart Dennis Garden for Blue Baths
Morning Tea will be at Tikitere Gardens
Arrive at the Blue Baths
AGM
Light Lunch followed by Conference Closing
Depart for Holiday Inn
'Rototaha' - Beside the lake
296 Dods Road, Waikiti Valley
Hugh and Mandy Collins

This property of 60 acres, over half of which has been planted, is situated beside Lake Ohakuri. The plantings began in 1998 and consisted of Redwoods and Douglas Fir woodlots. Hugh and Mandy retired from Auckland 11 years ago and built their home and guest accommodation and were able to continue their planting programme. All the trees have been planted to create an arboretum. Deciduous trees consisting of maples, beech, birch, Ash Oak for their colours and magnolias, rhododendrons, azaleas and dogwoods for their flowers. Completing the picture is a variety of conifers and natives. The wetlands have been left in their natural state and planting here includes taxodiums, Nyssa sylvatica, kahikatea, kowhai and Dawn Redwoods. Underplanting includes hostas, clivias, bluebells and Arisaema.

'Sandara'
351 Hossack Road, Waikite Valley
John and Marian Sandrey

This is a large country garden spread over 1.6ha and divided into two distinct zones over many levels, with paths to explore the different areas and plantings. There is a large woodland area, a long rockery, a waterfall feature lined with weeping maples, a bush and fern area, a rose area featuring the floribunda 'Trumpeter', dozens of rhododendrons, maples, cherries, azaleas, berberis, many mature trees and a birch grove. There is more formal planting around the house with wide steps lined with buxus hedging leading up to a Lutyens seat. A double row of Japanese cedars leads up to an area of prayer flags. Scattered throughout the garden are rustic sculptures and items of interest, and many different seating areas to pause and enjoy the panoramic views out to the Paeroa Ranges and over the Waikite Valley where John and Marian have lived for over 50 years.

Centennial Park
(Formerly Rotorua Tree Trust)

Centennial Park is situated in Tihiotonga at the southern side of the city. The area consists of 20 hectares of rolling land with some quite steep gullies. The aim was to provide an area for people to dedicate trees to family members or local dignitaries. There have been a variety of developments within the area, including the addition of a BBQ, toilet, picnic tables, Maple Grove and Peace Memorial.

PlentyFlora
1188 SH30, Horohoro, RD 1, Rotorua
Harald and Connie Esendam

PlentyFlora, the only geothermal flower grower in New Zealand, was founded in 2002 by Harald and Connie Esendam (Dutch immigrants). The glasshouse is about 2500 square metres in size and houses 14,000 gerbera plants which produce around half a million flowers, in total, on an annual basis. The feeding and climate systems are 100% computerised. All the flowers are sold to the New Zealand market (florists and general public).


'Rhodohill' Nursery
569 Paradise Valley Road, Rotorua
David and Ailsa Stewart

The four-acre garden at 'Rhodohill' is now fifty years old and showing its age In the best possible way with large specimen trees giving structure and scale to our hillside site. Many of the older rhodos are approaching this age as are other smaller ornamental trees and shrubs. Camellia numbers are much reduced due to petal blight but some large reticulata species and hybrids remain along with sasanqua hedging. Deciduous and evergreen azaleas also feature and grow well along with other acid loving plants in our volcanic soil.
Then in not so good ways with excessive shading in some areas and overcrowding in others. Now crown lifting, thinning, and hard pruning, or 'hat racking' as we call it, are the major decisions to make and tasks to undertake. This of course opens up areas for new ideas, plans, plantings and space for some of the newer 'must have' varieties and the shade perennials which seem to have snuck in.
Rhodohill Nursery has operated on site for the last thirty-five years but is now much scaled back as retirement beckons. Plants will be available during conference though and freight can probably be arranged.

BLACKBURN GARDEN & ART GALLERY
60 Lynmore Avenue Rotorua
Graeme & Jeanette Blackburn

Graeme and Jeanette Blackburn's suburban garden has been a treasured secret to many international visitors over the 55 years they have lived here. Graeme is the gardener and Jeanette the artist.
Beautifully presented, this 1/3rd of an acre immaculate garden consists of many areas planted to suit each garden room. Jeanette's wildlife and landscape paintings have collectors worldwide, and Graeme's garden has been an inspiration for many of her intricate botanical studies. This "Garden Art Gallery" which has won several awards has been Rotorua's most visited garden for the past 55 years.


THOMPSON GARDEN
4 Foley Drive Rotorua
Rob & Judy Thompson
Welcome to our cottage garden. This garden began development about 6 and a half years ago as a blank canvas. We planned the water feature with small waterfalls going between the gardens leading to two ponds at the bottom.
The gardens are full of plants providing plenty of colour and include irises, bulbs, guem, aquilegia and a variety of shrubs. The rear boundary has approximately 35 roses growing along it with an underplanting of Hostas, Bedding Dahlias, Begonias etc. Compassion and Lady Hillington Roses are beginning to climb the pergola with its statue and Weeping Maples. A succulent garden behind the house leads up to a compact veggie and fuchsia garden.
Judy completes her very colourful garden with mosaic work which she creates herself. There will be plants, pottery totems, flowers and fairy houses for sale.

MACKENZIE GARDEN
9 Foley Drive Rotorua
Jim & Jo Mackenzie

This little suburban garden is tucked down a right of way and has been 20 years in the making.
When Jim and Jo arrived, the section was a blank canvas but over time it has been cobbled, tiled and planted. There are little nooks and crannies to relax in around the section – it is a place of peace.
The rhododendron selection is almost all from the now closed Rhodohill Nursery and have been very carefully chosen over the years. They have managed to attract a variety of bird life as the result of this well thought out planning. Welcome to our little piece of Paradise.

'BERGAMO'
282 Penny Road Kaharoa
Paul and Carol Shaw

'Bergamo' is a large rural garden with a variety of plants which suit the area and are mostly mass planted. There are some unusual plants and trees not now in general cultivation. When the property was purchased 27 years ago the garden was confined to the flat area around the house but since then the ha-ha has been built and the garden extended down the hill and then to the right of the driveway.
This is a garden for all seasons with areas shining at different times of the year.
There is a 50m perennial border, large vegetable garden, fruit cage, glasshouse and shade house. The waterfall and pond are man-made, the sound of water adding to the peaceful atmosphere.


MILLER GARDEN
Fleming Road Hamurana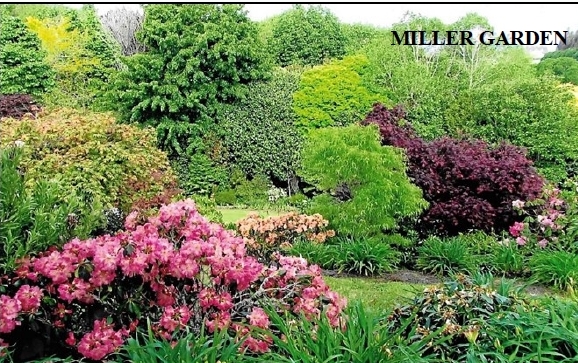 Walter & Dawn Miller

In 1983 we purchased the property. Racehorses walked up to the back and front of the house with post and rail fences in all directions. Two years later after 2 dry seasons we began forming the garden in the woodland area.
From there the garden grew and grew with the final section, the hill area on the right side of the drive purchased from the neighbour approximately 10 years later. The garden contains many rare and unusual plants both imported and purchased from all over NZ literally from North Cape to Bluff over several years.
There are collections of magnolias, maples, camellias, rhododendrons, deciduous azaleas, lilacs, some unusual tree peonies, hostas, bulbs and various woodland plants. After 30 years in the making the garden covers approximately 5 acres.
It is predominantly a spring and early summer garden with a delightful blaze of autumn colour.

'RHODOHAVEN' WOODLAND RHODODENDRON GARDEN
31 Ward Road Hamurana
Jim and Juanita Elley

'Rhodohaven' is a peaceful fully landscaped country garden of 2 acres which started as a blank canvas of 2 paddocks grazing sheep when we purchased it 41 years ago. We started with planting an orchard of 52 fruit trees and large vegetable garden and had many pets and a few rhododendrons in front of the house to begin with.
As the family grew up and the fruit and vegetables were no longer needed our love of rhododendrons took over, the borders emerged, and the garden took off. Borders were created slowly and filled with rhododendrons, camellias, azaleas, trees and lots of bulbs and perennials for ground cover. With the mass planting of hostas more recently in the lower garden it has evolved to more of a woodland garden. We also have vireyas, in hanging baskets among the trees. Some of you will have been here 16 years ago for the last Rotorua Conference and seen these.
Many of the earlier Rhododendrons are now big mature plants and we have around 500 of them plus 11 standards of varying ages. A later edition to the garden has been an experiment we tried to see if Bromeliads could survive here in this frosty area. As you will see it has been successful with the huge Grandiflora Magnolia keeping out the frost.
We next joined the Clivia Club based in Auckland when it was formed, and purchased seeds and raised our own plants and now they are a great complement under the rhododendrons and bloom at the same time.
We still love our garden; it is our home and passion and with a little help from our son at times, who lives in Wellington, and Jim's trusty tractor and mulcher we can still manage it and enjoy it for ourselves after many years of being open by appointment. NZRA members are most welcome to visit 'Rhodohaven' during the 2019 Rotorua Conference.


'INNISFREE'
384 Hamurana Road Hamurana
Robin and Christine Findon

A name inspired from the poem written by W.B Yeats "The Lake Isle of Innisfree".
The property has the magnificent backdrop of Lake Rotorua and in the distance Mokoia Island of 'Hinemoa and Tutanekai' fame. The gardens at the front are on a flat section at the road side and then beyond the house the garden slopes gently down to a beautiful sandy beach at the water's edge. Planting has been progressive over a 24-year period with very little on site, other than the house, when purchased.
There is a large selection of Rhododendrons, Azaleas, Bottle Brushes, Grevilleas, Magnolias, Maples and much more. It is at its best in spring and early summer with early, mid and late flowering varieties of shrubs on show. The nooks and crannies reveal garden ornaments, a small Bushwalk, a "Walk of Wisdom" and a Petanque Court.
There are places for quiet contemplation and a chance to enjoy the bird life.

TIKITERE GARDENS
104 SH 30 Tikitere Rotorua
Bill Robinson and Ann Ford

A 23-year-old garden and nursery created by the very knowledgeable owners.
Spend time to walk around to discover the treasures within this expansive garden. Follow the stream and go past the irises to the mown oval to appreciate all there is to see. You will discover a large variety of plants from rhododen-drons to beds of stunning hostas tucked under the trees. This garden has been created by a dedicated nurseryman.
Allow some time to browse through the nursery where you will find many unusual and unique plants and new release rhododendrons.

DENNIS GARDEN
117 Te Puea Road Tikitere
Stuart & Marie Dennis

Stu and Marie brought their property 12 years ago after one visit to view the property and promptly falling in love with the view. To say the property has undergone substantial redevelopment is a huge understatement.
Stu's business is landscaping, and he likes to do things on a grand scale which is reflected in the massive boulders giving structure to many of the gardens, expansive decks around the house and an extensive planting mix of natives and exotics.
The gardens have been set up to take advantage of the panoramic views of Lake Rotorua and the surrounding hills, with manicured lawns (another passion) leading from garden to garden. Mass plantings dominate each area in a blend between formal and informal.
Completing the grand scale is a large edible garden and orchard.
Marie doesn't get too attached to any garden as they are likely to be dug up and remodelled when they're looking a bit tired or Stu has another great plan. "You've just got to go with the flow and know that the final product is going to be amazing."
---


BILL ROBINSON and ANN FORD from TIKITERE GARDENS

The following plants have been generously donated by Bill Robinson and Ann Ford for fundraising purposes at the Conference:

Rhododendron 'Orange Marmalade': * A 1st release in NZ. Bright red buds open to rosy pink flowers with an orange throat. The flowers have a wavy edge and delicate spotting. Very vibrant. 1.2 m. Early – Mid.

Rhododendron 'Porcelain Doll': Lemon cream flushed and suffused peach pink with light spotting of red in the throat. good growth habit. Mid.1.8 m

Rhododendron 'Cranberry Lace': * A 1st release in NZ. Frilly edged flowers, 4" across, purplish-pink with paler throat and purplish-red central star, purplish-red margins. Dome-shaped trusses of 15 – 16 flowers. Mid-season.

Rhododendron 'Tawa Glen Audacious': Bright, cheeky, round trusses of vibrant salmon rose, hint of lemon inside. Dark spots on the upper lobes and a dark pink stripe down the outside of each petal. Large calyx. 1.8 m Mid-season. NZ hybrid.

Rhododendron 'Galisco Gold': Gold with a dark eye.

Kalmia Raspberry Glow: The flowers are deep burgun-dy-red in the bud but they open with strong pink on the inside of the flower but fade to a medium pink. One of the most eye-catching in flower.

Kalmia Snowdrift: Clean white flowers totally smother the dark green foliage of the compact rounded plant. The plant grows as wide as high. 1.1 m.

Iris siberica Miss Apple – The nearest iris to red yet - won the Morgan Wood medal in the USA this year.

Bill and Ann are also donating 2 Hostas selected from their stunning collection.






These Limited Edition Prints have been kindly donated by Jeanette Blackburn
and will be used for fundraising purposes at the Conference



---
registration
Your registration form can be downloaded (click here) or register online (click here) . Please remember to take a copy for your own records.

The registration fee covers Opening function, all lunches, morning and afternoon teas and Conference Dinner.

Dietary requirements - If you have special dietary requirements please ensure they are fully spelled out on the registration form.

Accommodation - You are urged to make your accommodation booking as soon as you can.