Saturday 3rd November -
Tuesday 6th November 2018
The Rutherford Hotel,
Nelson, New Zealand




We, the Nelson Organising Committee, extend a cordial invitation to all members, friends and overseas visitors to the Nelson and Tasman region to enjoy some of our most beautiful gardens and places of interest.
This invitation is extended to all NZRA members, overseas rhododendron group members and residents of the Nelson and Tasman regions.
We are most grateful to the garden owners for their participation in this event, which has not been held in Nelson for 35 years.

Bloom Display
The bloom display will be located in The Rutherford Hotel and we encourage you to bring blooms to add to the display, from 1.00 pm on Saturday. Labels will be provided. It will be open to view from 6.00 pm Saturday until Sunday evening .
Free evening.
The evening of Sunday, 4 November, is free of official commitments. You will find a range of eating places available in Nelson and outlying areas.
Additional/optional activities.
On Saturday morning (8-1) there is a weekly Arts Market in the Montgomery Square which has a wide range of produce and goods for sale. The Wearable Arts Museum is on 1 Cadillac Way, Annesbrook (quite near the airport) and is open every day 10-5. Nelson is renowned for wineries and art galleries which are found throughout the region. Also on Friday there is an optional day trip (bus and cruise) into the Abel Tasman National Park
Weather Conditions.
As is usual at this time of the year, the weather may be unsettled and we recommend warm clothing, wet weather gear and sturdy footwear.
Health & Safety
. Every effort has been made to ensure gardens and coach stopping points are safe. It is a condition of registration that you assume responsibility for your own safety and possessions during the Conference. Paths may be uneven and a walking stick is recommended if you need this assistance.
Conference Accommodation
Organisers are concerned people may miss out on suitable accommodation as one complex is already fully booked for November 2018. If you plan to attend the 2018 Nelson Conference, it is recommended you book your accommodation now. All those listed below are within close walking distance of the main venue. When booking, check that cancellations will be accepted nearer the time, should you find you cannot attend.
Transport:
Coaches leave from The Rutherford in central Nelson at 8.15 am on Sunday, Monday and Tuesday mornings. On the final day, buses can drop you at the airport after the conference ends. Be sure to indicate on the registration form if you require this.
Transport from Nelson Airport. There are regular shuttles to Nelson available (ask for a discount if you are a party of 4 or more), and taxis are approximately $20.
Gardens Marlborough.
(For those wishing to go on to this afterwards.) Garden Marlborough is considered NZ's premier garden event and is now in its 25th year. The four day festival includes garden tours, educational workshops and social events. This year's international keynote speaker is British Garden designer and former Director and Chief Designer of Chanticleer in the USA, Chris Woods. This year's event runs
from 8th-11th November. Tickets on sale 1 July. For more information visit
www.gardenmarlborough.co.nz
Programme Summary*
Friday Nov 2
9.00 am – 4.30pm Abel Tasman National Park Optional

Saturday Nov 3
8.00 am Nelson Arts Market Optional
1.00 pm Bloom display set up -
3.00 pm Registrations commence – The Rutherford
6.30 pm 'Meet & Greet' and evening meal
7.30 pm Official Opening at The Rutherford Hotel

Sunday Nov 4
8.15 am Coaches depart for garden tours
Group A 8.15 am Depart for Eyebright, then Maydon Oaks
Group B 8.15 am Depart for 'Long View'
Morning Tea at the Moutere Community Centre
Group A 11.45 am Depart for 'Long View'
Group B 11.00 am Depart for McMillan's Gallery
Boxed lunch at 'Quail Crossing'
Group A 2.45 pm Depart for McMillan's Gallery, Charlie & Nancy Rhodes
Group B 1.45 pm Depart for 'Maydon Oaks' and then Eyebright
5.00 pm Depart for Nelson
Free evening

Monday Nov 5
8.30 am Coaches depart for garden tours
Group A 8.15 am Depart for 'Silvan'
Group B 8.15 am Depart for 'Palmer Estate'
Morning Tea at the Moutere Community Centre
Group A 10.45 am Depart for 'Rhodolee' and 'Copper Beech Gallery'
Group B 10.45 am Depart for 'Taitsway'
Boxed lunch at Peter & Pam Smales
Group A 2.15 pm Depart for 'Taitsway' and 'Palmer Estate'
Group B 1.45 pm Depart for 'Rhodolee, 'Copper Beech Gallery' and 'Silvan'
5.00 pm Depart for Nelson
Conference Dinner at The Rutherford Hotel 6.30pm
Guest Speaker: Dylan Norfield (Collection Curator of the Geographic and Arboretum
Collections, Dunedin Botanical Gardens) Topic: Rare Plants

Tuesday Nov 6
8.30 am Coaches depart for garden tours
Group A 8.15 am Depart for 'Leon Page and Queen's Gardens
Group B 8.15 am Depart for 'Thackwood where morning tea will be available
Group A 10.00 am Depart for 'Thackwood where morning tea will be available
Group B 10.00 am Depart for 'Leon Page and Queen's Gardens
Groups A & B 11.45 Depart for Isel Park
12.15 pm AGM
12.45 pm Lunch at Isel Park
2.00 pm Depart for Nelson Airport or The Rutherford

*Programme subject to change depending on registration numbers.



---

Karen and Murray Gill Featured in NZ House & Garden magazine in 2017
463 Main Road Wakapuaka
Thackwood is part of the 300 acre farm which has been in Murray's family for 120 years but it is only in the past 35 that he and Karen have created this romantic setting of many weddings which is now a Garden of National Significance.
Wide easily graded grass paths wind uphill from a picturesque pond belying the work it has taken to transform a rocky north facing hillside into a rambling English style garden with over 100 rhododendrons and 120 roses among its many treasures. The steep clay perennial banks are lined with lichen covered boulders relocated from the farm and old farm materials are imaginatively repurposed throughout these intriguing 3 acres.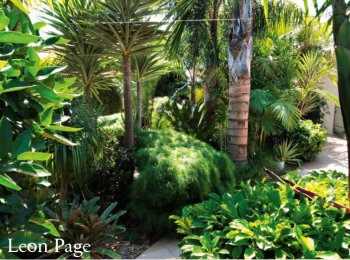 Leon Page Featured in NZ House & Garden magazine in 2016
De Pierri Way, The Wood, Nelson
Leon's garden is a fascinating small city garden, a veritable jungle in a city suburb. The garden features lush tropical and subtropical plants. It is beautifully laid out in a compact space and packed with bromeliads, vireya rhododendrons and bangalow palms. Leon worked with landscape designer James Wheatley to establish an environment suitable for subtropical plants, creating layers and providing protection from the frost. Leon kept adding plants and James commented that it is very rare to get the chance to put so many plants in such a small space. He rated the project in his top five.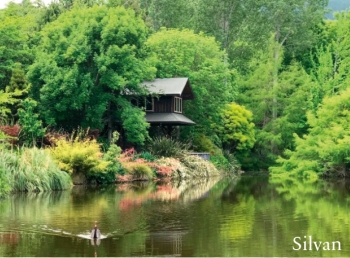 Rick and Sarah Griffin
205 Champion Road Richmond
Silvan means wooded landscape, a perfectly apt name for this tree studded hillside parkland. The Griffins have lived on site for 18 years but it was Rick's passion for trees which made him buy the bare land and begin planting back in 1989. The vision was never for a garden as such but rather a woodland haven complete with tranquil pond/lake and overlooking summerhouse. There are a few rhododendrons but it is the extensive collection of tree species which is the star of this property.

Trevor and Sharon Palmer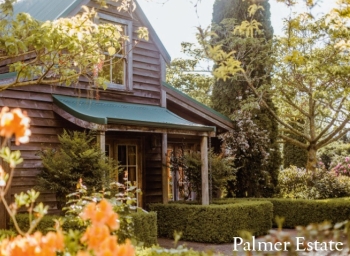 832 Lower Queen Street Richmond
In 1995 Trevor and Sharon Palmer purchased an 8 hectare dairy farm and began developing Palmer Estate. In that year they began planting trees and started their country style macrocarpa house, which has been added to in stages. Lawns and gardens were designed with the help of landscaper Ross Baldwin and the garden has continued to develop into a lifestyle setting providing shade and entertaining areas.
In 2016 a beautiful rustic style barn was built to accommodate their daughter Jacinta's wedding and is now available for wedding hire. More gardens and an attractive pond were added at this stage. Their son Brodie has become involved in the garden and this has led to a passion for landscaping, plants and tress which has extended beyond this property.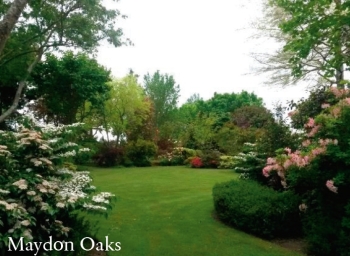 May and Don Irvine
78 Redwood Road Appleby
Since 1989 May and Don have developed what was a bare paddock among vineyards into the verdant woodland garden it is today.
The soil of these nearly 3 acres is heavy with an underlying clay pan which meant drilling holes for the specimen shade trees they wanted including the fairly uncommon Chinese Wingnut.
Beautifully kept lawns meander through herbaceous borders backed by rhododendrons, viburnums and hydrangeas overhung by magnolias, camellias, maples and cherries. Favourite perennials and shrubs are repeated in drifts.
The north boundary extends into a mown meadow with carefully spaced oaks allowing room for a cricket pitch in summer. The sound of well water rippling into a small fishpond completes this tranquil oasis.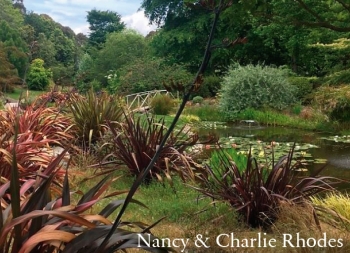 Nancy & Charlie Rhodes
370 Coastal Highway, Nelson
Nancy and Charlie shifted in to 370 in May 2004 and Charlie started cutting down the 26 Cottonwood Poplars growing in a very wet area at the bottom of the slope. Landscaping was put on hold while house alterations took place but by late spring 2006 the garden, pond and lawn started to take the shape it is today. The stumps were dug out and covered to form a bank while the ensuing hollow became the pond which is fed by two new stone creek beds edged with a snaking ribbon of purple and blue Japanese irises.
Rhododendrons and camellias were the first choices for planting filling in with flowering cherries, magnolias and azaleas. The garden only has about 100mms of soil on a clay base making it necessary to use lots of home-made compost mixed with mulch and pine needles.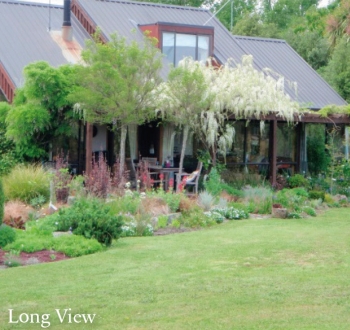 Sue Gardiner
137 Sunrise Valley Upper Moutere
Sue bought this 0.19 ha property in July 2009. The top area was covered with gorse, flax and toitoi along with a few natives and cherry trees. The lower paddock was wall to wall gorse complete with a goat. Sue has laboriously cleared, added compost and incorporated 30 tons of rock. Planting began with good tough trees in both areas and the planting still continues. Sue has a passion and extensive knowledge of plants ranging from small alpines, rhododendrons (small and large), shrubs and trees and perennials. In the lower area, the old pond has been converted to a bog area, with wooden walkways, summer house and bridges.
Sue is always looking for the unusual (e.g. Paris Quadrifolia, Arisaema), some of which she raises from seed in a shade house.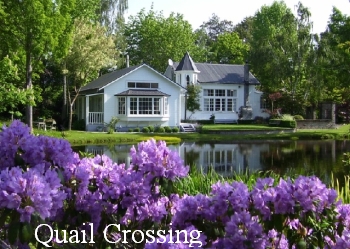 Michael Edwardes Featured in NZ House & Garden magazine in 2017
97 Flaxmore Road, Upper Moutere
Quail Crossing is a large country garden, set out in a natural style with a woodland area and manmade lake. The garden features many waterways and bridges, with two waterfalls. There are whimsical structures, a large variety of rhododendrons, irises, hostas, roses and rare perennials. Look out for the very large garden swing for those young at heart.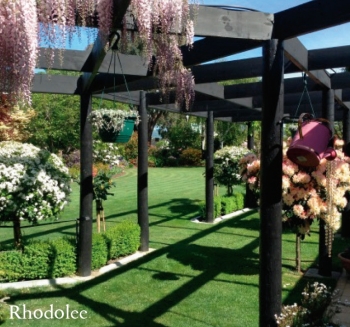 Miriam and Andrew Lee
221 Thorp Street Motueka
It is hard to believe this park like ½ acre is only ten years old. Always a gardener Miriam is used to creating gardens from scratch so she knew exactly what she wanted. The style is English informal with beautifully kept lawns curving through the dappled shade of magnolias and maples under planted with the possibly 200 rhododendrons which give the garden its name. The soil this close to the beach is very sandy so deep mulches and water are essential. Miriam's daughters are also plantswomen and perennials will be for sale.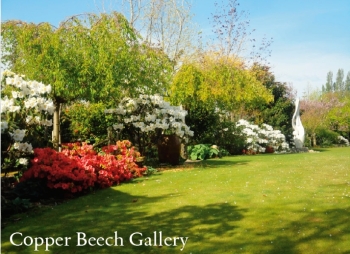 John and Carol Gatenby
240 Thorp Street Motueka
John and Carol's businesses are home based so a sense of space and tranquillity has always been important to them.
Over 21 years they have developed what was a sandy ex tobacco field into a beautifully landscaped garden haven with views across the sloping lawn to an estuarine wildfowl sanctuary and the mountains beyond.
Though they have downsized now to something over an acre maples camellias and rhododendrons still abound with a feature grouping of Mi Amor stunning in their exquisite size and fragrance.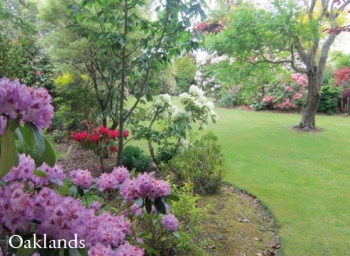 Peter and Pam Smale
22 Atkins Street, Motueka
Peter has a background in horticulture so when faced with an unwelcome transfer to Wellington in the mid 1970s the couple decided to stay and develop their own business. From then until 2011 the Smales operated the very popular Oaklands Nursery from this site.
Though they have had to battle verticillium wilt which is a legacy from the land having been a tobacco farm they have succeeded with an extensive collection of exotic and native trees under planted with rhododendrons, hydrangeas and often unusual perennials lining winding paths with treasures around every corner.
And then there is Peter's greenhouse……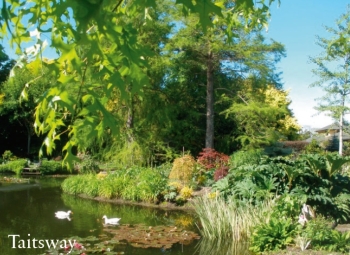 Heather and Alan Tait
93 Motueka Quay
Thirty years ago this piece of land was 1¼ acres of flat low lying bog clothed only in potential. Alan got busy with an earth mover to sculpt the pond (hence Taitsway) and create a mound for the house site while Heather's vision developed and honed the garden we see today.
Many of the original rhododendron plantings succumbed to thrips which thrive in our climate so beneath the framing trees the focus has moved to a range of unusual plants with contrasting foliage which surround and complement the waterlily pond and provide a mecca for birdlife.
---
Garden
Delights
of Nelson & Tasman

Dylan Norfield
(Collection Curator of the Geographic and Arboretum Collections, Dunedin Botanical Gardens)
Topic: Rare Plants

Check out the top of Trafalgar Street (near the church steps), which is closed to traffic and has a cluster of restaurants spilling out onto outdoor tables. Also, up and down Hardy Street there are many more places to eat, including a wide range of take away outlets.

On Monday night there will be silent auction of rhododendrons and raffle tickets for sale.

A sales table will be available at the Conference venue and it includes rhododendron plants.
Cash/cheque sales only as there are no eftpos facilities available.



Abel Tasman National Park
Friday 2nd November (9am – 4.30pm)
Those who register for this tour will be picked up at the Rutherford Hotel Friday morning and taken by coach to Kaiteriteri Beach. Here they will board a boat which takes them to view the little bays along the way to Awaroa Beach. Tea and coffee is available on the boat. Awaroa is the beach New Zealanders contributed funds to in order to save it from going into foreign ownership. Lunch is at your own expense at the Awaroa Lodge. You will be free to enjoy a walk along the beach so have suitable footwear. A wetland area which has been developed behind the lodge, is interesting to view. The boat is covered in but it is important to have a warm coat and hat. The cost of this tour is $76.00 providing 50 people register.
---
registration
Your registration form can be downloaded (click here) or register online (click here) . Please remember to take a copy for your own records.

The registration fee covers Opening function, all lunches, morning and afternoon teas and Conference Dinner.

Dietary requirements - If you have special dietary requirements please ensure they are fully spelled out on the registration form.

Accommodation - You are urged to make your accommodation booking as soon as you can.