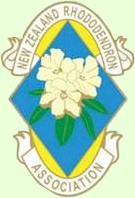 International Rhododendron conference 2014
20 -24 October
Dunedin - New Zealand

The New Zealand 70th Jubilee International Rhododendron Conference 2014 was officially opened by Neville Peat, on behalf of the Mayor of Dunedin, Dave Cull in the infamous South Island city.
Dunedin is known for its cooler climate and grows superb Rhododendrons as we witnessed in the variety of gardens that were available for us to view. Two of the gardens included are classified by the NZ Garden Trust as Gardens of International Significance , these being the 28 hectare Botanic Garden (NZ's oldest) with its Rhododendron Dell established 100 years ago, and the garden at Larnach Castle. Others visited included privately owned suburban and rural gardens. In the Glenroy Auditorium many named blooms were on display these being contributed by growers and members.
Overseas visitors and locals were offered pre and post conference tours. Pre Conference participants met in Auckland and were able to visit gardens and sightsee on their travels through the North Island before flying to Queenstown and travelling by coach to Dunedin. Those on the Post tour travelled from Dunedin through the McKenzie Country to Christchurch visiting gardens and tourist attractions along the way before their departures home.
Guest speakers are always a highlight of the conference sharing their travel experiences and expertise.
Neville Peat, an author, photographer, ecologist and conservationist, titled his talk Wild Dunedin - the ecology of Dunedin.
Steve Hootman, Executive Director and Curator of the Rhododendron Species foundation and the Rhododendron Species
Botanical Garden in Federal Way, Washington, USA spoke on Rhododendrons in the wild - highlights of 20 years in the field.
Our own Denis Hughes of Blue Mountain Nurseries in Tapanui (a wholesale and retail business established in 1932) spoke about his personal views on Hybridising Rhododendrons.
Hartwig Schepker, Scientific Director of the Botanic Garden and Rhododendron Park Bremen, Germany gave two presentations. The first The Mysteries of Arunachal Pradesh exploring unknown rhododendron territories in North- Eastern India and the second An unusual network of parks, private gardens and nurseries - Rhododendron cultivation and preservation in Germany.
Lynn Bublitz, a retired high school principal has been involved with Pukeiti Rhododendron Trust's garden near New Plymouth since he was a school boy and chaired the Trust for ten years. Lynn's topic was Maddenia in NZ.
A Banquet at the Dunedin Town Hall on Thursday evening was followed by a plant auction (proceeds to Tannock Glen).
Snow fell as we approached the first garden on Friday morning. Conference was brought to a conclusion later that day at the Outram Hall where delegates enjoyed a lovely lunch.
Report by Joy Gavin
Conference Gardens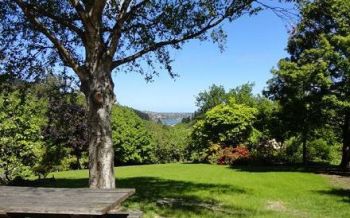 Tannock Glen:
Dunedin Rhododendron Group
Flanked by pine-clad hills, with a view across Dunedin Harbour, Tannock Glen is reminiscent of a true Scottish glen and loch. The specialist rhododendron collection there has been built up since 1975 by members of the Dunedin Rhododendron Group and contains a large number of rare species collected from the wild, plus choice hybrids. A flowing lawn, with well balanced plantings of mature Magnolia, Prunus, Acer and Quercus, among others, form a backdrop and canopy for the rhododendrons that lead down-hill via gravelled paths to more shaded plantings and a short bush track that leads back towards a beautiful stand of golden elm.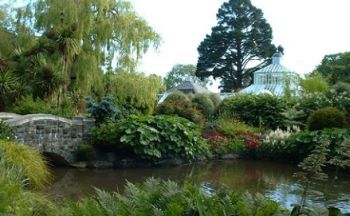 Dunedin Botanic Garden
Dunedin City Council
Dunedin Botanic Garden was established in 1863, and is the oldest in New Zealand. It is one of only five gardens in New Zealand to be classified by the NZ Garden Trust as a Garden of International Significance. The flat lower garden has a semi-formal character, and includes the Camellia Collection, herbaceous borders, rose garden, herb garden, Edwardian winter garden, a pond, and a 2000 square metre rock garden. The garden extends uphill from the rock garden to the Mediterranean and South African Gardens linking the lower with the upper garden. To the north are the other geographic collections and the native section, and to the south is the 100 year old Rhododendron Dell. The Dell is a 4 hectare woodland garden, with an extensive collection of species and hybrids in a mixed native and exotic setting.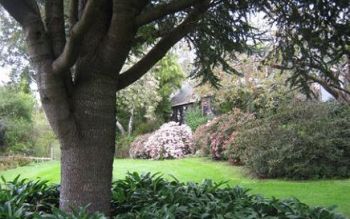 Lindenfield, 14 Forrester Ave, Liberton.
Bron Medlicott-Fitchett & Tony Fitchett
Bron and Tony bought the original 3.5 acres in 1972, when it consisted of a pony paddock, sandwiched between old gorse and blackberry and a recently cleared slope covered with regenerating gorse, with a further steep slope of second-growth bush, elderberry and hawthorn. Later, in 1992, an adjoining 5 acres were bought. Bron and Tony have developed a woodland garden around the house replacing the gorse and have a particular interest in large-leaved rhododendrons, and the Maddennia Subsection whilst Bron has a special interest in conifers, and Tony in Quercus species.
A curving avenue of Prunus serrulata Shimidsu Sakura, was planted as a memorial for their eldest son Marcus and his friend Rachael Gloag, killed in an accident in Canada in 1996. Parts of the garden are quite steep, with narrow paths which require some care from those with restricted mobility.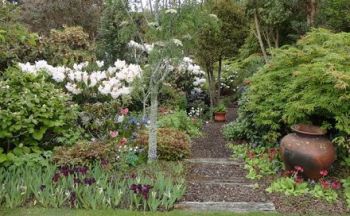 Kanuka Ridge, 73 Rockside Rd
Gretchen and John Henderson
Gretchen and John came to live in Dunedin in 2003, but as the property had been purchased earlier they were able to move favourite shrubs, small trees and perennials from their previous garden. It is also an advantage to have the mature trees of Ross Creek Reserve on three sides. A particular interest is in rhododendron varieties with good foliage, associated with native plants to add foliage contrasts. Care has been taken with design and colour schemes.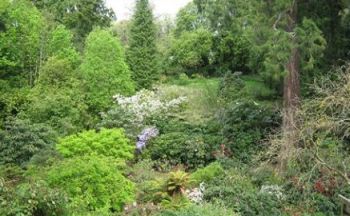 58 Grendon St, Maori Hill.
Patti and John Matheson
Patti and John Matheson began developing an inner-city woodland garden out of dense second growth bush and sycamores in 1981. All but the tallest trees were removed and initial planting was of native tree ferns alongside a small creek. Sequentially, rhododendrons bred by the late Bruce Campbell and established hybrids from Blue Mountain Nursery in Tapanui followed. Landscaping of the house bank used rock from Otago Peninsula and rail sleepers from Otago Central Railway. The resultant plots were filled with spring bulbs, smaller rhododendrons, roses and perennials. Beyond the creek the garden has a less formal habit with mainly azaleas, larger rhododendrons, Cardiocrinum giganteum,hellebores, Primulas and hostas shaded by tall Wellingtonias on a pathed bank that leads to Mercy Hospital gardens. The property is most colourful in spring but the well defined Dunedin seasons allow variation of flora that continues to give great pleasure to the owners.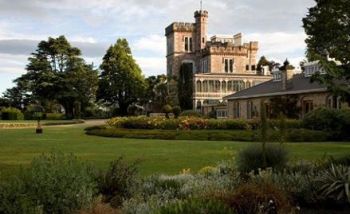 Larnach Castle
The Barker Family
Larnach Castle was built during the decade of the 1870s by William Larnach. The oldest trees date from this decade as does the layout of the driveways. Margaret and the late Barry Barker purchased the property of 35 acres, including the ruined garden, in 1967. A new garden has been developed in the footprint of the old layout, close to the house in sympathy with the historic buildings; further out in response to the landscape. An axis was created from the Castle to the view and the surrounding formal landscaping established in the 1990s. Removal of trees from the North Slope revealed a beautiful view, but opened the site to salt winds. The South Seas Garden was created to withstand the conditions and to reflect our position in the Southern Ocean.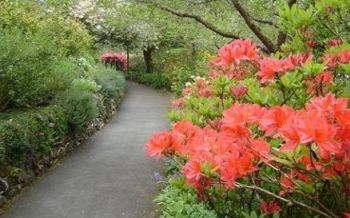 Glenfalloch, 430 Portobello Rd
Otago Peninsula Trust
Glenfalloch Woodland Garden, Gaelic for hidden valley is an historical garden, - tranquil, beautiful, much loved and classified as a Garden of National Significance. A garden of four seasons with spring being spectacularly impressive of bulbs, rhododendrons, Azaleas, drifts of English Bluebells, Snowdrops, Primula Candelabra and wild Primroses around every corner. Summer displays enchanting drifts of flowers. Autumn and winter is a leafy tapestry of brilliant reds, orange, yellow and claret boldly provided by numerous varieties of Maples, Birch, Rowan, English Beech, Oak Ash, Walnut Elm and Horse Chestnut trees which complement the indigenous New Zealand native ferns, Kowhai, Rimu Pohutakawa and Cordylines. The aging dry stone walls accentuate the garden structure in artfully arranged beds, maximising seasonal colour combinations, form and texture. The original Homestead and fountain stand majestically above the sweeping lawn where the driveway swirls up and around the front, Alfred Buxton style.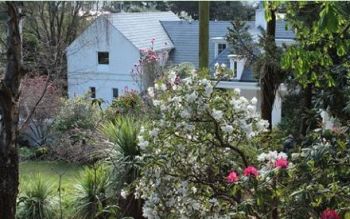 398 Portobello Road
John and Susanne Chambers
When the Chambers bought this property almost 13 years ago it proved to be the start of an adventure in rediscovering the bones of a long neglected garden. Today the drive sweeps up one side of an extensive lawn, past old pohutukawa, cordylines and kowhais. The courtyard behind the house is backed by old established camellias and two Cyathea medularis frame the entrance. On the northern side of the large architecturally classic house a substantial pergola supports a large Pandorea vine and is backed by the beautiful hydrangea-like shrub Dichroa febrifuga along with colourful azaleas, scented daphnes, lilies and lilacs. Behind the house, rhododendron, heather and conifer sections, raised flower beds, a rockery and vegetable garden have all been enhanced with new plantings now stretching up the slope of this lovely little valley. Cross the bridge to: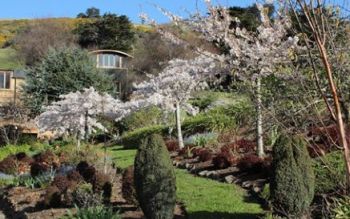 396 Portobello Rd
Barbara and Gerry Wilkins
This garden is nestled in a sheltered valley on the beautiful Otago Peninsula. Developed over 24 years by the current owners the garden features a variety of plantings and garden styles both formal and informal. White stemmed Himalayan Birches and rock walls line the entrance driveway. The front garden features an expansive lawn bordered by heavily perfumed Rugosa roses framing a view of the magnificent Otago Harbour and includes natives and perennials intermingled with a colourful display of Irises Rhododendrons, Azaleas and Magnolias in the lower sheltered areas. A secluded woodland garden is situated behind the house with water loving plants edging an attractive stream, which runs through the property from open farmland hills above. Quaint planked bridges lead you through lush plantings of Rhododendrons, Maples, Cherry's and Magnolias under-planted with Hostas, Astilbes, and Irises.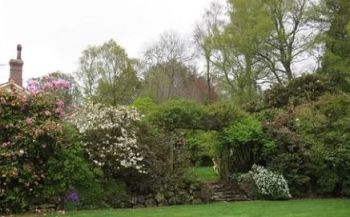 Ashburn Garden, 5 Three Mile Hill Rd
Evelyn & Trevor Millar
The property was originally settled in the 1880's: many of the large trees and the stone walls date from then. Reg and Nan Medlicott developed the rhododendron garden in the 1950s and 1960s when Reg was the Medical Superintendent at Ashburn Clinic. They were helped by Phillip Barling from Glenfalloch, The original plant of the hybrid rhododendron Mrs Percy McLaren is in the garden: it was named by Reg Medlicott after his mother-in-law. When Evelyn and Trevor Millar purchased the 2 hectare property in 1995, there was a jungle of blackberry, gorse and other weeds outside the main lawns and hedges. They have extended the garden and planted hundreds of rhododendrons, and there is still a lot of work-in-progress.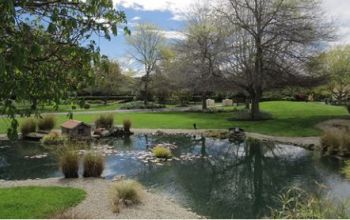 Broxburn Park, School Rd RD2, Mosgiel
Brian & Shirley Stevenson
15 to 20 minutes travel west from central Dunedin is a lovely rural area known as North Taieri. This is where Broxburn Park is situated. Broxburn Park was named by the first settler, a retired ship's captain who settled there in 1864 and named it after his home district in Scotland. It is now a 40 acre lifestyle block running sheep and beef cattle. The current owners have lived on the property since 1982 and have created a large 1 acre garden with sweeping lawns and many varieties of trees and shrubs. An ornamental lily pond with waterfall was designed and installed as a millennium project. There is also a collection of restored horse drawn carriages.