The Taupo Conference
The New Zealand Rhododendron Association Conferences are an annual highlight. Alternating between all regions of the North and the South Islands, the aim is to enjoy the company of knowledgeable, enthusiastic people from diverse backgrounds, together with welcoming aspiring plants people, all keen to share and learn.
The format usually includes two or three invited keynote speakers who present over the three days, as well as some workshops. Most looked forward to, is the majority of time spent visiting larger and smaller gardens in the area
In 2013 this Conference was based in Taupo in the central North Island, not generally considered a significant horticultural area. The numbers attending were fewer at 127, but the intimate atmosphere and rural hospitality were notable. On the Opening Night internationally recognised New Zealander Gordon Collier gave an amusing address relating some of his life's experiences centered around gardening. The Conference Dinner introduced an Art Exhibition, all for sale, as well as an Auction of Goods ranging from holiday weekends and ventures, to dining and personal pampering. Sometimes this evening features a band and dancing, or on other occasions a guest speaker.
Every Conference showcases a "bloom display," contributed by members and local gardens, with each exhibit named.
It is the region's gardens and significant features that take centre stage.
Outstanding in Taupo was Gordon Collier's pocket handkerchief garden where his skill in planting such a wide and choice range of plants, including trees, was amazing. A handout sheet naming some of these specialist plants, was much appreciated. The immaculate presentation of all properties was a joy to view. Especially interesting was the use of the colour green by two different owners.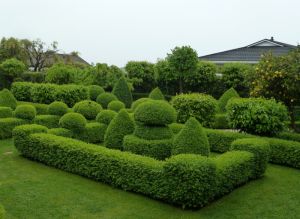 The exclusive use of Buxus topiary in interesting patterns - much like a chess set - together with many taller mop tops was novel and stunning, this all set off with perfect lawns. A conducted tour of a developing large Botanical Reserve, the work largely done by volunteers, was eye-opening, as was the visit to a gated community set in extensive wonderful bush reserves elevated above Lake Taupo where the views were glorious. The delightful floral arrangements at one of the homes was a special treat.
An add-on at the conclusion of Conference was the opportunity to visit the famous Huka Lodge and grounds - ranked among the world's best.
The local organising committee presented a varied and most interesting programme, greatly enjoyed by all present.
We look forward to welcoming you in October 2014 at Dunedin in the southern South Island
For more photos of the Taupo Conference, go to the Photo Gallery or click here