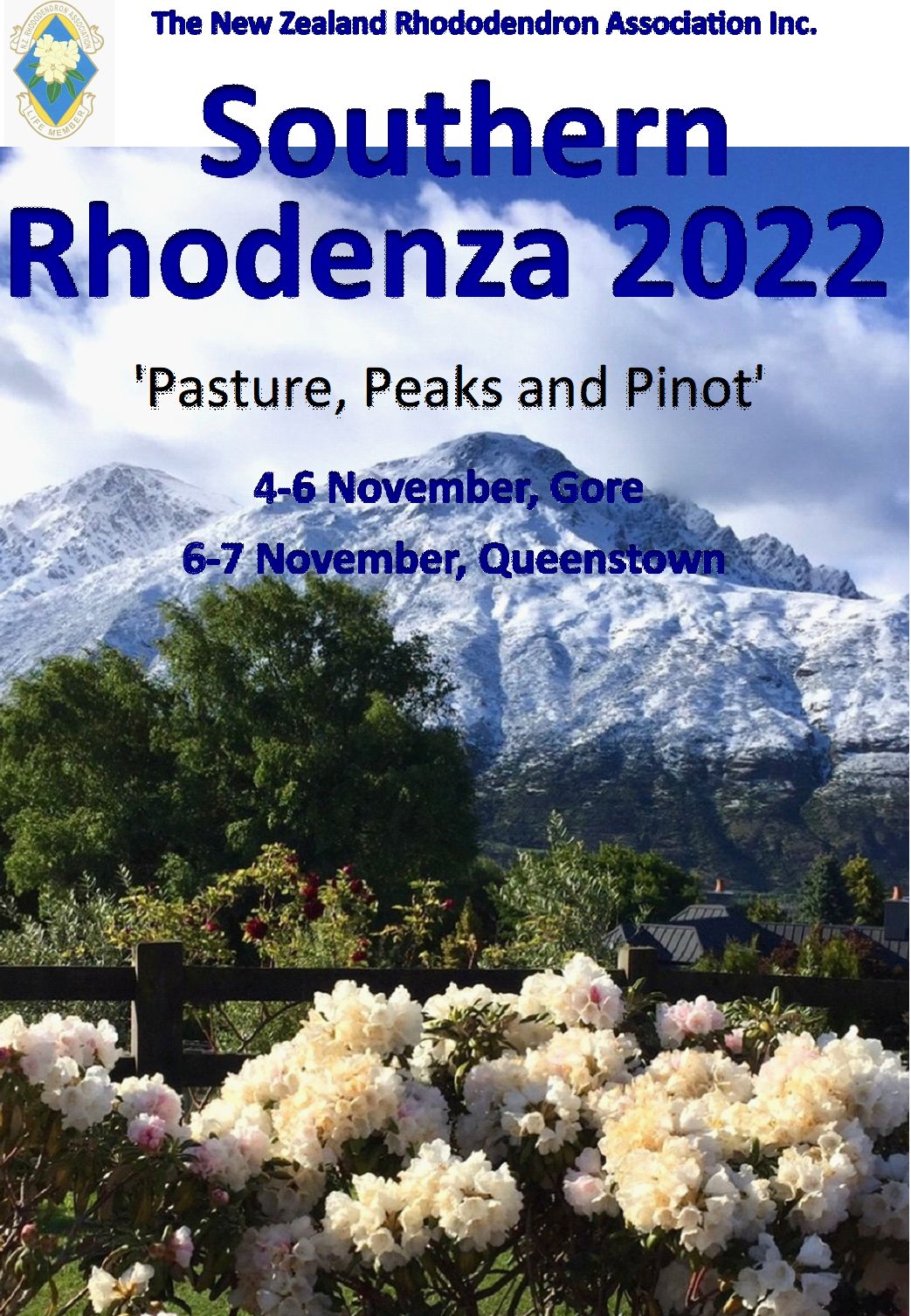 Hosted by the Southern Rhodenza Committee
ACCOMMODATION
Southern Rhodenza 2022 will be based at the Croydon Lodge Hotel, Gore for the 4 & 5 November and Sudima Queenstown Five Mile, Frankton for the 6 November.
Buses will leave from all the locations listed below.
Croydon Lodge Hotel

100 Waimea Street Croydon
Gore 9776
Phone 03 208 9029
[email protected]

Booking
A special room rate has been arranged at the Croydon Lodge Hotel. To take advantage of this special conference rate book by phone using the code Rodenza 2022.

Motel Accommodation

Riverlea Motel, 46-48 Hokonui Drive, Gore Ph 03 208 3130
Assure Oakleigh Motel 70 Hokonui Drive , Gore Ph 03 208 4863
Esplanade Motel 35 Railway Esplanade, East Gore Ph 03 208 0888
Charlton Motel 9 Charlton Road South Gore Ph 03 208 9733

SUDIMA QUEENSTOWN FIVE MILE

20 Grant Road Frankton Queenstown 9300
Phone 03 242 8222

Booking
A special room rate has been arranged at the Sudima Queenstown Five Mile. You must pay for your room with your registration no later than 1st October 2022.

Accommodation bookings and payments made after 1st October must be negotiated by the attendee directly with the hotel.
INVITATION TO
Southern Rhodenza 2022

4 - 6 NOVEMBER , GORE
6 - 7 NOVEMBER, QUEENSTOWN

Hosted by the
Southern Rhodenza Committee

The 76th Annual conference of the NZ Rhododendron Association
We warmly invite you to the southern region to attend SOUTHERN RHODENZA 2022. It is 18 years since we hosted this gathering in Gore. We are eager to share some of our notable and diverse gardens.

On the first day we will visit one of New Zealand's most outstanding private gardens Maple Glen. After viewing other gardens in this area we will finish the day with a visit to Bannerman Park, with its 4 star rating by the New Zealand Gardens Trust.

Viewing on the second day will start with gardens in Gore, followed by two large rural gardens, one in Greenvale and the other at Castle Rock, enroute to Queenstown.

On the final day we will visit two gardens nestled in the Wakatipu Basin, Queenstown. The first is newly developed, the second is the well established Chantecler garden with its stunning views.

We hope that you will take the opportunity to extend your stay in the South either before Rhodenza 2022 to visit the Catlins or Stewart Island or post hRodenza 2022 to explore Queenstown, Fiordland and Central Otago further.

Please come prepared for all seasons. We look forward to hosting you for SOUTHERN RHODENZA 2022.

Airport transport. If you are flying into Invercargill, please include your arrival time on your registration form. We have a bus to transport you to Gore on Friday 4 November.

Bloom display. Please bring entries for the bloom dis- play. Vases and cards will be available at the Croydon Lodge Hotel from 1 pm Friday 4 November.

PROGRAMME SUMMARY

Friday 4 November
If you arrive early take the chance to visit Dolomore Park and the Gore Public Gardens.

1:00 pm Bloom Display
At the Croydon Lodge hotel Gore.
3:00 pm Registration
Please collect your Rhodenza bag and plant.
5:30 pm Rhodenza Opening
Drinks and nibbles at the Croydon Lodge Hotel Gore NZRA President, Sue Davies and Denis Hughes to open the conference.
 6:45pm Welcome
Introduction to Southland Hokonui Moonshine .
Speaker: Jim Geddes.Please note: A set menu meal is available at the Croydon Lodge Hotel at your own cost. Please book through the hotel before Rhodenza.

Saturday 5 November


Garden visits to:
Maple Glen, Glenham.
Duncraigen Farm Garden, Mimihau.
Beatrice Johnston's garden, Edendale. Bannerman Park, Gore.
Conference Dinner to be held at Croydon Lodge
Speaker: Wolfgang Bopp

Sunday 6 November

Garden visits to:
Spylaw Farm Garden, Gore Gay Hinton's Garden, Gore
Paterson Park & Garden, Greenvale Castlemaine garden, Castle Rock
Queenstown
Free evening.
Dinner own arrangements
Monday 7 NovemberAGM


Garden visits to:
Sharon Stalkers garden, Queenstown.
Chantecler, Queenstown.

Farewell from the President
SOUTHERN RHODENZA 2022 GARDENS
Saturday 5 November
Maple Glen - Rob & Kim Davison
Maple Glen, a large informal garden is the creation of four people over two generations. There are over 40 acres of established garden and another 50 plus acres of newer plant- ings. A large collection of cold hardy perennials, bulbs, trees, and shrubs. We have plants available for sale, but no EFPOS facility.
Duncraigen Farm Garden - Carolynn & Bruce Robertson
My parents moved here from Lynwood Station in 1952 and Mum had flower beds around the house and a formal trimmed shrubbery. Around 13 years ago I began developing the garden to host weddings in a formal setting.
Beatrice Johnston's garden
On a corner section in the country town of Edendale lies a small garden of mixed treas- ures. When visited in the 1970's by the NZR conference goers it was owned by the late Jack Bayley who introduced the tree peony Molly Bayley to gardens. Many of his rhododendrons and trees still call this garden home.
Bannerman Park - Gore District Council
Known as the Hidden Valley, the land was set aside in the 1870s but was full of gorse and broom until the 1960s when grass was sown, springs were drained, and there were extensive plantings of rhododendrons, conifers, and silver birches. The creek beds were developed 20 years later with bog plants, and since then herbaceous perennials have been extensively planted.

Sunday 6 November
Spylaw Farm - Dianne & Stuart Hamlin
The garden at Spylaw Farm is 16 years in the making. The views are to die for, but the lack of good soil can be a challenge especially during the summer months. It has a wide variety of plants ranging from the special little treasures to the different varieties of trees.
Gaye & Ron Hinton's garden
Our house and garden were built by Ron's Grandparents (Ron & Mona Bannerman) and it has been in the family since then. The garden is divided into many rooms by brick and stone walls including a formal rose garden, stunning rockeries, many original trees and shrubs and an extensive vegetable garden.
Paterson Park & Garden - Sharon & Laurie Paterson
Paterson Park began in the early 1960s developed by Lorraine Paterson. Five acres of extensive conifers and rhododendrons. Home of Cornus Greenvale, Prunus Lorraine's Early Bird and Rhododendron Lorraine Paterson. Recently the garden has gone through rejuvenation by Sharon Paterson.
Castlemaine Garden - Sharon & Peter Clarke
Castlemaine garden is a country garden on a working mixed cropping farm. Comprising of trees, Rhododendrons, azaleas, roses, bulbs, varied hedging, and other plants suitable to this area. An interesting feature to the garden is a more formal area based on English design.
Monday 7 November
Shari Stalker's garden
Designed and planted 4 years ago by owner Shari Stalker and designer Sally Brown from Blueskin Nurseries, this beautiful country garden nestled in the Wakitipu basin is enhanced by the backdrop of the Remarkables mountain range. A diverse variety of plantings including some rhododendron can be enjoyed in this magical setting.
Chantecler - Mike Henry
This extensively planted twelve acre garden has a vast and diverse collection of plants, including many rhododendrons, azaleas and kalmia in themed areas, with stunning views of the surrounding landscape.
Registration Form
Click here to Go to the online Registration Form